| | |
| --- | --- |
| | German |
| This page is dedicated to the Samurais, and the Pioneers, who developed Ju Jutsu/Jitsu across the world. | Further this page is dedicated to my country Athletes, who are Olympic heroes. |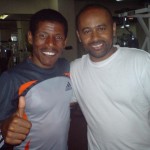 -"Hence, when able to attack, we must seem unable; when using our forces, we must seem inactive; when we are near, we must make the enemy believe we are far away; when far away, we must make him believe we are near." "Move not unless you see an advantage; … fight not unless the position is critical. … To be near the goal while the enemy is still far from it, to wait at ease while the enemy is toiling and struggling …"
(Sun Tzu's Art of War)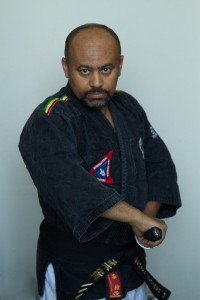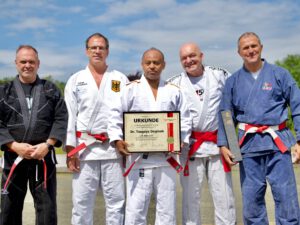 Ju-Jutsu is self-defense oriented and the most realistic martial art, consisting of punches & kicks (Karate), throws (Judo), locks (Aikido), chokes, stick fighting, and other elements from different martial arts.
I've been practising Ju Jutsu for the last 30 years and also practiced Tai Chi Chuan for three years in Germany, and I have achieved the Rokudan / sixth degree black belt in Ju-Jitsu and first degree black belt in Judo.
I am teaching Ju Jutsu as a trainer at the Humboldt University Berlin and responsible for approx. 45 students per term. Training has, at times, been extremely difficult, but I assure you, it has certainly been worth all the effort that I have afforded it.
In my country (Ethiopia), there are several traditional stick fighting techniques, different arts of wrestling, asian martial arts. Ju Jitsu is in early stage. In 2008 we found the Ju Jitsu Assocaition in Ethiopia and in 2010 Judo & Ju Jitsu Assocaition Ethiopian (EJJA), that registered by Ministry of Justice and local sport offices and try to establish a Federation under the Ethiopian Sport authorities.
It was a great pleasure that Yared Negusse become the new African Ju-Jitsu Champion in Brasilein Ju-Jitsu (NeWaza) in 56 kg that held in Morroco.. For the first time ever in the history the Ethiopian national anthem played and the flag waved at International Championships. The second big and amazing news is that Meskerem Alemayehu became Vice African Champion and won silver as the first ever Ethiopian female. At the next day the athletes received two more bronze medals in other systems. It took 10 years of hard voluntary work, knowledge transfer and many unbelievable challenges to reach at this level in Ethiopia since I introduced this sport to Ethiopia, which is my hobby and with the support of Germany.
Africa Championships Ben Guerir, Marrakesh Morocco, April 2019
In 2007 I was appointed as 2nd special Adviser to the Jiu/Ju Jitsu African Union, in 2009 as Member of Board of Directors and President of Zone 5 JJAFU (Burundi, Egypt, Ethiopia, Eritrea, Kenya, Somalia, Sudan, Uganda) and in 2010 Vice President of Jiu/Ju Jitsu African Union (reelected twice) and work with other African Ju Jitsuka for an effective awakening of our African's Ju-Jitsu.
In 2016 I have been elected Vice President of Ju-Jitsu International Federation Ethics Commission at the JJIF Congress in Da Nang/ Vietnam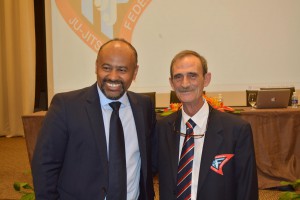 With JJIF President Panagiotis Theodoropoulos, 2016
I would like to suggest that we begin to help, my friends. Contact me if you are interested on.
I am just trying to make Ju Jutsu popular in Ethiopia. I wrote in Amharic about it and already have first contact with interested martial arts athletes.
In my martial arts career, I received the highest golden needle of honor of the German Ju-Jitsu federation and other awards.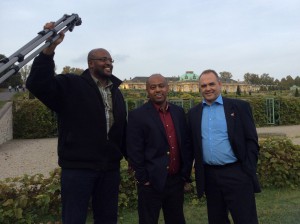 The The documentary film maker Garmamie Sideau making a film concerning my engagements and also Mr. Daxbacher Concerning the director, it is about people who are involved in their spare time to spread these sports beyond the borders. The film shows how Ju-Jitsu and Judo brings people together, but also what challenges remain. It shows that these sports are not just only self-defense, but also a contribution to important values of human coexistence such as mutual respect, consideration, equality and diversity. Mr Sideau plans to present the film to large audience in the international film festivals.
Sine 2007 I held several seminars for more than thousand students and supported in my capacity.
Just an example the last seminar on Dire Tube
A picture is worth a thousand words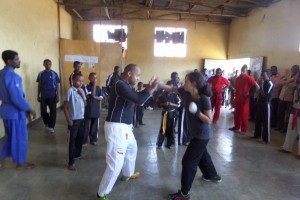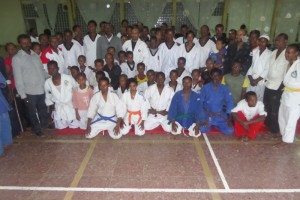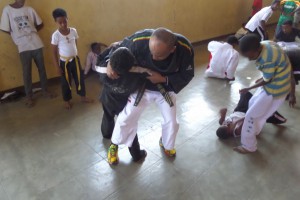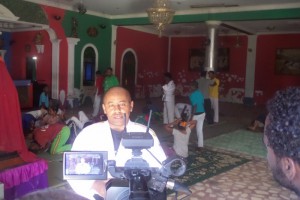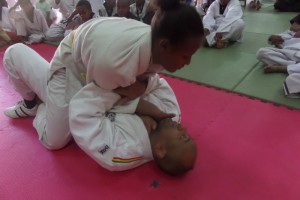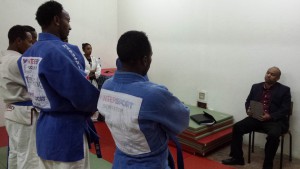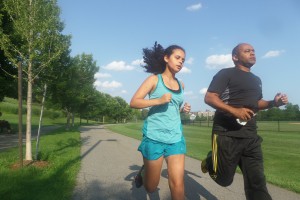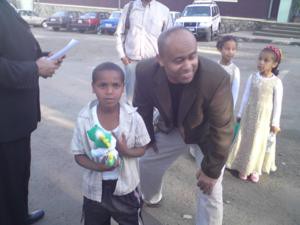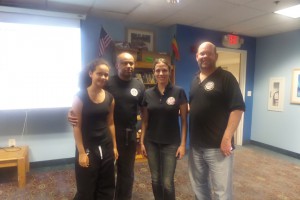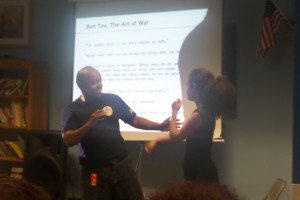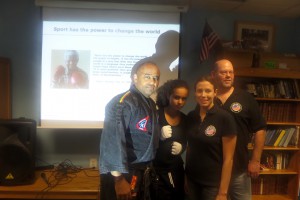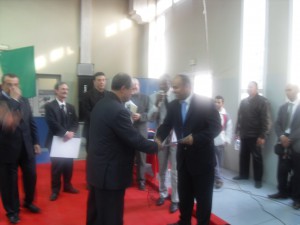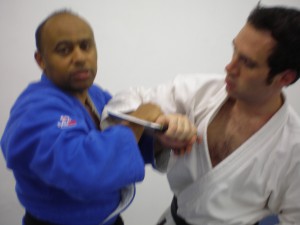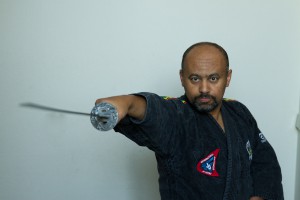 Some comments about African Martial Arts.