It is better wither to be silent, or to say things of more value than silence.
-Pythagoras
Together we can make a difference – Initiative of Ethiopian Embassy Berlin against the Covid-19 crises.
​
—-
Interview: German Christmas Market Traditions and COVID-19-Pandemie
—–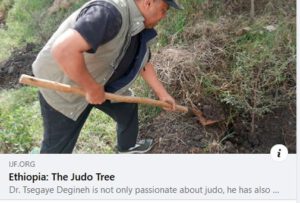 ——
Interview with the Ethiopian Satellitia Television concerning the follow-up of the open letter of 60 Ethiopians and German-Ethiopians living in Germany to Chancellor Merkel concerning the Grand-Ethiopian-Renaissance-Dam., Prof. Dr. Asnakech Laß-Seyoum, Dr. Tsegaye Degineh – 29.08.2020
——
Interview with Daimler "face of sustainability" / Gesicht der Nachhaltigkeit – 12.082020.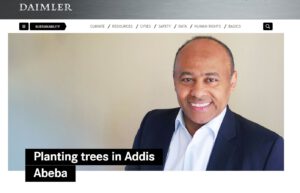 ——
ESAT Tikuret Hailu Mamo on Corona and Negligence with Dr. Sintayehu Asefa and Dr. Tsegaye Degineh
"ቅድሚያ ልንሰጠው የሚገባውን ችግር ቸል ብለነዋል" ከዶ/ር ፀጋዬ ደግነህ እና ዶ/ር ስንታየሁ አሰፋ ጋር የተደረገ ቆይታ August 2020
——-
Open letter of 60 Ethiopians living in Germany and German-Ethiopians to Chancellor Merkel concerning the Grand-Ethiopian-Renaissance-Dam with SBS- Amharic. – Prof. Dr. Asnakech Laß-Seyoum and Dr. Tsegaye Degineh 28.07.2020
በበርሊን የቴክኒክ ኬሚስትሪ ፕሮፌሰር ዶ/ር አስናቀች ሥዩምና የምጣኔ ኃብት ባለሙያ ዶ/ር ጸጋዬ ደግነህ፤ በአገረ ጀርመን ካሉ የኢትዮጵያ ማኅበረሰብ አባላት ጋር በመተባበር ለጀርመኗ ቻንስለር አንግላ ሜርክል ስለ ጻፉት ደብዳቤ ተልዕኮ ይናገራሉ።

Gepostet von SBS Amharic am Dienstag, 28. Juli 2020
——-
Interview with DW (Deutsche Welle): Offener Brief von 60 in Deutschland lebenden ÄthiopierInnen und Deutsch-ÄthiopierInnen zum Nil-Staudamm (GERD), Open letter to Chancellor Merkel from 60 Ethiopian & Ethiopian-Germans concerning GERD 13.07.2020
——-
ETV: Interview with Ambassador Mulu Solomon, Dr. Debru Gubba and Dr. Tsegaye Degineh, 06.06.2020
——-
Interview with the Ethiopian Satellitia Television about the experiences and the first successful milestone in corona (COVID-19) pandemic containment in Germany as lessons learned. 22.04.2020
——-
Deutsche Welle – concerning Corona, the hardest challenge for the European Union particularly "Corona Bond". 30.03.2020
To Listen
——-
Deutsche Welle Interview – Coronavirus: Technical lessons learned – 29.03.2020
To Listen
——-
ESAT Interview socio-economic-political challenges on the current crisis of Corona (COVID-19) pandemic. 27.03.2020
——-
ESAT Interview on the Socioeconomic challenges and lessons learned of Corona (COVID-19) pandemic in Europe. 20 Mach 2020
——-
የኢትዮጵያኖች የአስተሳሰብ ለውጥ የት ደርሷል? ክፍል 2- ናሁ ጉዳይ (Nahoo TV – on mindset and working culture – part 2)
——-
የኢትዮጵያኖች የአስተሳሰብ ለውጥ የት ደርሷል? ክፍል 1- ናሁ ጉዳይ (Nahoo TV – on mindset and working culture – part 1)
——-
ESAT- Dual Citizenship Benefits and Challenges
To Watch
——-
የሳሮን የጥበብ ጅማሮ (Saron Degineh – interview with Fana TV)
To listen
——-
ከውጭ አገር ወደ አገር ቤት ለሚገቡ በጎ ፈቃደኛ ኢትዮጵያውያን ኃላፊነትና ተደራሽነት ሊኖር ይገባል SBS on voluntarism
To Listen
——-

የእውቅና እና ምስጋና ስረዐት
To Listen
——-
Deutsche Welle on the Ethiopian upcoming election
To Listen
——-
በስፖርቱ የተደበላለቀው ሕግ ደንብና መመርያ (Reporter on Sport)
To Read
——-
በስራ ባህል እና በማይንድሴት ላይ ያተኮረ ሴሜናር Technology and Innovation Institute
To Read
To Watch
——-
የስራ ስነምግባር የአመራር ክህሎት እና የስፖርት ተመክሮ ከጀርመን ለስፖርት አመራር
To Read
My workshop on sport experience sharing from Germany and #WorkingCulture to Ethiopian Sport Authorities.https://t.co/NwScYFhGhs pic.twitter.com/rmez8qpZpn

— Dr. Tsegaye Degineh (@TsegayeD4) January 5, 2020
——-
Deutsche Welle on Sport Road map and strategy in Ethiopia
To Read
——-
Addis Zemen – determinants of innovation and change – ዕምቅ አቅማችን በእጅ የያዙት ወርቅ … እንዳይሆንብን
To Read
——-
SBS – Amharic on Dual Citizenship
To listen
——-
Deutsche Welle on the visit of German President Frank-Walter Steinmeier
To Listen
——-
Ethiopian Reporter – on Dual Citizenship
To Read
——-
SBS – Amharic on Public Policy
To listen
——-
SBS – Amhaic in Ethiopians in Germany: Mischief, Anger, Peace and Unity
To lisen
——-
Deutsche Welle on Sport Reform
To Listen
——-
SBS – Amharic on German Federal Election:
To listen
——-
SBS – Amharic on Project Management
To listen
SBS – Amharic on Martilal Arts
To listen
——-
——-
SBS – Amharic
To listen

——-
FM Sheger 103 Ethiopia Radio
To listen
——-
Sendek News Paper
To read
——-
ETV- Video Interview on Martila Arts
To watch
——-
FM 97.1 Ethiopia Radio
To listen
——-
African Television Network of New England
To watch Part I, Part II
——-
Abugida Ethiopian American Television Network
To watch
——-
Deutsche Welle Interview with two Ethiopian Economists, 15th July 2009
To listen (MP3, 11MB)
——-
Business management – News on Project Management and Diaspora
To read
——-
Reporter News Paper – Interview on Project Management and Martial Art
To read
——-
ETV- Video Interview on Project Management and Diaspora
To watch
——-
Addis Admas News Paper – Interview on Martial Arts and diverse
To Read, Correction
——-
Deutsche Welle Interview on Project Management Book, 16th May 2008
To listen IVR (6.8MB), WMA (3.0MB)
——-
Deutsche Welle Interview on Energy and Knowledge Transfer, 24th April 2008
To listen (WMA, 3.8MB)